Herbs and essential oils infused Raw Honey is very popular right now.  Is a great way to enhance the taste and increase the health benefits of the Raw Honey.  You can put Raw Honey on bread, desserts, fruit and even over yogurt just to name a few. 
---
"There are several ways to infuse honey for not only edible enjoyment but also for health benefits."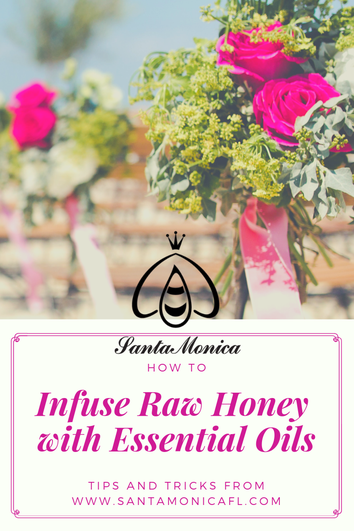 ---
New to Raw Honey? We also have the following posts to help you understand about Santa Monica Florida Raw Honey benefits:
---
There are several ways to infuse honey for not only edible enjoyment but also for health benefits.  The ingredients are simple, all you need is your favorite Raw Honey and your favorite herbs and/or food grade essential oils.  You can infuse the Raw Honey with a single herb or food grade essential oil or multiple depending on the use.
Wildflower Raw Honey for example is a great way to relieve a sore throat just as lavender essential oil is great to infuse with to promote relaxation. 
There are two different ways that you can infuse the honey one taking longer than the other.  The first way is really fast and is done by adding a few drops of food grade essential oil to your Raw Honey and be ready to enjoy the health benefits of the infused raw honey. Some suggestions are:
Lemon (Citrus limon) Vitality essential oil can add a bright and dynamic flavor to your Raw Honey and tea.
Lavender Vitality essential oil will amplify the flavor of your raw honey recipes with a unique and sophisticated flavor, this essential oil will add a sweet and slightly floral flavor that will be hard to forget!
Copaiba Vitality essential oil from a Brazilian tree has a robust, earthy flavor that when added to your raw honey it can promote overall wellness and may be an important part of a daily health regimen.
---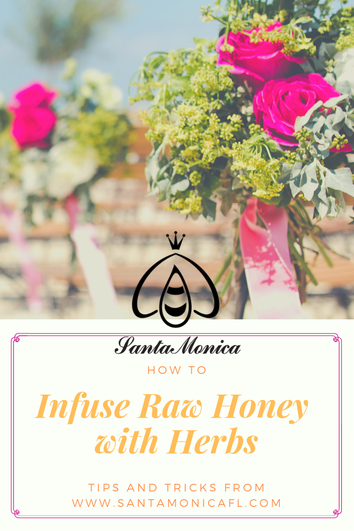 The second method takes longer (2 weeks to be exact) however the benefits stay intact. This is done by letting dry herbs sitting in the honey for 2 weeks and then consuming.
Below is a great method I found at Thekitchen.com to make Herb Infused Honey.
Ingredients
Basic formula: Use about 1-2 tablespoons of dried herbs per 1 cup (8 ounces) of honey.
Raw Honey: A light, mild flavored honey generally works best. (Wildflower Santa Monica Florida Honey is a good option)
Herbs: Use a single dy herb or a combination. Rosemary, sage, thyme, mint, lemon balm, lavender, chamomile, rose petals, and pine needles all make lovely infused honeys. You can also use spices like vanilla beans, cinnamon sticks, and star anise. ***Herbs should be dry; see instructions below.
Equipment
Clean, dry jars and lids (half-pint and pint mason jars work well)
Chopstick, wooden spoon handle, or other stirrer (avoid metal, which can scratch jars)
Clean cloth for wiping jar rims
Strainer
---
---
Instructions
1. Prepare herbs: Herbs should be dry (see safety note, below) and may be in the form of whole sprigs or separated leaves, buds, and petals. Chopped herbs may infuse more quickly, but they may also be harder to strain out. (To dry fresh herbs, use an air or oven drying method, dehydrator, or microwave.)
2. Combine herbs and raw honey: Place herbs in the bottom of a jar and fill the jar almost to the top with honey. Using a chopstick or other implement, stir to coat the herbs with honey. Top off with more honey to fill the jar. Wipe the jar rim with a clean cloth and cover tightly.
Tip: Label the jar with the contents and date so you don't forget!
3. Infuse: Let the herbs infuse for at least 5 days. If the herbs float to the top, turn the jar over a few times to keep them well coated. For a more intense flavor, infuse for another week or longer.
4. Strain: Strain the honey into a clean jar. Depending on the volume of honey and herbs and the size of the strainer, you may need to do this in stages. (Tip: Use the leftover herbs to make a tisane.)
5. Store: Store the honey in a tightly covered jar in a cool, dry place. It will last indefinitely.
---
A Note on Safety:
Although some people make infused honeys with fresh herbs, this process calls for dried herbs in order to limit water activity and the growth of Clostridium botulinum spores.
Ready to take your Raw Honey cravings to the next level? Join the Honey Club!
Access Through Facebook, One-Monthly Payment of Only $20
YES, Satisfy your Sugar Cravings!
---
Disclaimer: the medical, health, and skin care benefits mentioned in the blog are intended for educational purposes. Any statements made by Santa Monica honey highlighting the potential uses of its products are not guaranteed.
---
---