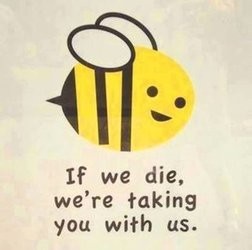 Did you know that U.S. beekeepers lost an average of 45 percent of their colonies between the end of 2012 and the end of 2013? Or that, thanks to pesticides called neonicotinoids, hives are producing 85 percent fewer queens?Neonicotinoids aren't just terrifying for the beekeepers or our agricultural economy - they're terrifying for my family. Nearly one third of the food we eat requires pollination - including almonds, apples, and dozens of other fruits and vegetables!
We need you to solve this problem for our state and for our country. Please support H.R. 2692, the "Saving America's Pollinators Act," introduced by Rep. Conyers and Rep. Blumenauer. This bill would protect bees by requiring the EPA to suspend the use of four of the pesticides belonging to the neonicotinoids class until their safety can be determined. It would also charge the EPA with monitoring bee health.
We depend on bees to pollinate many of our crops, and it's time to stop using chemicals that put them -- and our food -- at risk.
Will you join us by sending a message to Congress urging our representatives to stand up to the greedy chemical companies? 
http://action.sierraclub.org/SavetheBees

Thanks!
Santa Monica Team