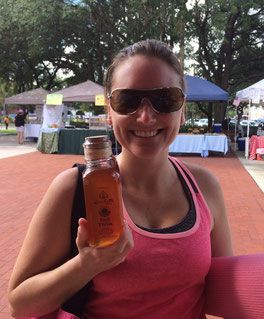 It is a little known fact that there are over three hundred different types of honey available. Not only that, but of those three hundred types each can have their own unique flavors or uses. It is also worth noting that many of those three hundred different types are spread throughout different parts of the world, or are difficult to harvest and thus rarer to find for purchase. Listed below are some of the more common types of honey that you can find in the United States and specifically in Florida where the Orange Blossom is the most popular and Tupelo the most exotic.
Tupelo Honey
Tupelo is a specialty found along the Apalachicola and Chipola river basins near Florida. Tupelo has a light golden color to it and has been described as having a very sweet and distinctive flavor. Tupelo is highly preferred amongst diabetics because it has a very low glycemic index compared to other types of honey.
Orange Blossom Honey
Orange Blossom is considered to be Florida's signature type of honey, often referred to as being sunshine soaked. Orange Blossom has a light fruity/citrus flavor, which is where the name comes from. Because it is so common, it tends to be one of the easiest types of honey to order and is great to use for cooking purposes and glazing.
Wildflower Honey
Wildflower honey isn't limited to just one location and can instead be found throughout the state. It has a tangier taste than most of the other types of honey on the market and usually is harvested four times a year and it comes in different colors. Wildflower is often sought after for more than just the taste though, as it is believed to suppress pollen related allergies because of the pollen content of different flowers that bees collect around the beehive.
Saw Palmetto Honey
Saw Palmetto is the oldest known honey within Florida, believed to have been used by Native Americans years ago. Saw Palmetto has a very rich fruity caramel taste. It is also one of the harder types of honey to find on the market. This rarity means that it is also going to be one of the most expensive as well. As with Wildflower, Saw Palmetto is the number one herbal supplement believed to have a medicinal uses as well, supposedly reducing the risk of prostate cancer, hormone modulating effects and managing hair loss.