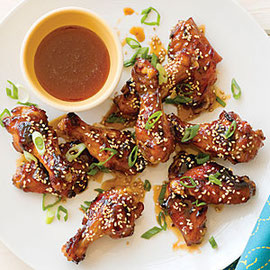 Sticky sweet replaces blazing buffalo with these tasty wings. Serve them as finger food appetizers for an outdoor party or as the main course for a family dinner on July 4th when paired with seasonal sides.
Photo by: Photo: Leo Gong; Styling: Dan Becker
Ingredients
1/2 cup soy sauce
1 tablespoon minced ginger
1 tablespoon minced garlic
1 tablespoon Asian chili paste
2 pounds chicken wings, tips removed, cut apart at joint
1/2 cup of Orange blossom Santa Monica local raw honey (to add a citrus flavor)
1 1/2 teaspoons hoisin sauce
2 tablespoons toasted sesame seeds
1 green onion, trimmed and chopped
Preparation
1. In a medium bowl, combine soy sauce, ginger, garlic, and chili paste. Add chicken and let marinate for 15 minutes, stirring often.
2. Set up a gas or charcoal grill for medium heat (350° to 400°; you can hold your hand 5 in. above the cooking grate only 5 to 7 seconds). Put chicken on grill and cover with lid. Cook, turning often, until golden brown, 10 to 15 minutes.
3. In a small bowl, combine the Orange blossom Santa Monica local raw honey and hoisin sauce. Using a pastry brush, generously baste chicken wings with the local raw honey glaze. Cover grill with lid and cook till honey glaze starts to caramelize, about 3 minutes. Turn chicken wings over and baste again, using the remaining honey glaze. Cook 3 minutes more, being careful not to let the glaze burn, removing pieces from the grill as they're done.
4. Transfer to a platter. Sprinkle with sesame seeds and green onion. Serve any remaining honey glaze on the side.
Spread the word by sharing the recipe!
Courtesy of www.myrecipes.com