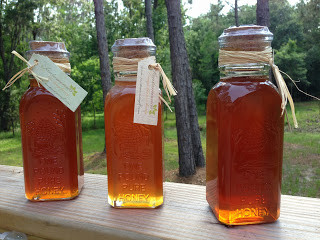 According to Registered Dietitian Mitzi Dulan here are few Energy Break Survival Tips:
Staying hydrated throughout the day is an essential tool for maintaining a healthy and active lifestyle. Since honey naturally contains about 17 percent water, it dissolves easily. Just add some honey to water for a budget-friendly sports drink.
Mix a nut butter and honey, or honey and light cream cheese, as a dip for fresh fruits or vegetables for a wholesome energy snack.
To maintain consistent energy levels throughout the day, select meals with adequate amounts of protein such as canned salmon, eggs or nut butters. Take time to prepare an easy lunch like canned salmon with mixed greens or a deviled egg sandwich on whole grain bread.
To keep up your energy, choose high fiber foods like whole grains (wheat, rye breads, quinoa) and legumes (beans, lentils).
Breakfast is the most important meal of the day and what you choose to eat sets the tone for the day ahead. Plain or Greek-style plain yogurt with a teaspoon of honey and a handful of nuts is a nutritious way to kick-start the day.
For a 3 p.m. pick-me-up, try one of Mitzi's personal favorite snacks: a whole wheat sandwich thin with nut butter, sliced banana and honey. It is a delicious way to power through the rest of your day.
Always aim to eat all-natural whole foods that are easy to pronounce with simple ingredients such as honey, strawberries, avocados and spinach.
Enjoy and Bee healthy!
Santa Monica Honey