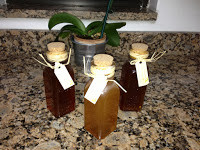 This past Saturday February 23 we had a great time at the Yoga festival held in the Lotus Pond in Tampa. We were part of the festival as one of their vendors selling local raw honey, honey soaps, honey candies and natural lemonade. It was an awesome event full of yoga classes for every age and many vendors to pick from. Our customers were very pleased to buy our honeys after tasting the four varieties we had to offer, our best selling for the day was blueberry honey and saw palmetto honey followed by wildflower and Orange blossom. We are going to be in different fresh markets and will be updating soon the dates and times to have the honor to serve you again!
We held our raffle last night and will be contacting the lucky winner soon, I hope she will share some pictures and review from her experience.
Thank you all who bought our honey and supported the local economy!
Sincerely
Santa Monica Team