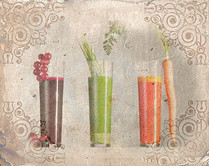 I am currently on my second year of a fabulous morning Juicing ritual and the results are always amazing!!
There are SO many reasons why juicing is extremely beneficial here are just a few:
With juicing all the nutrients get absorbed rapidly by your body providing a rest opportunity to your digestive system; your body utilizes this energy to clean out old and toxic matter that you are holding in (an average a person holds around 5 to 10 lbs of toxic old matter in their intestines) making juicing to be a great alternative to detox, restore and rejuvenate!
I grow my own wheatgrass at home and my recipe includes lots and lots of great goodies, here are the ingredients:
Apple
Baby Bok Choy
Beet
Broccoli
Carrot
Celery
Chayote
Cucumber
Fennel
Ginger
Kale
Lemon
Mint
Parsley
Radish
Spinach
Wheatgrass
Zucchini
I make this juice for my entire family every morning and we enjoy it prior to get ready for the day.
It takes time and lots of discipline because you have to prepare all the ingredients (wash them, clean them) before the juicing without counting grow your own wheatgrass… but is a routine I highly recommend because is healthy!
If you need some inspiration, I recommend you the documentary Fat, Sick and Nearly Dead streaming live on Netflix, you will cry and will see that is the motivation you need to start!